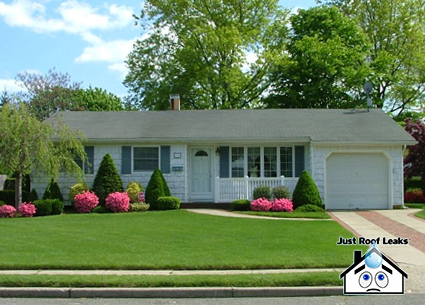 A shingle roof repair should be done quickly to prevent water damage. Just Roof Leaks℠ is your 24-hour roof repair expert who will do the job right and save you money.
Is your roof missing shingles, leaking or damaged? We can fix it fast and properly today!
Call us at (205) 413-4683!
As the number one roofing material in Alabama, asphalt shingles are the least expensive to repair. The key is to fix roof leaks quickly before water damage sets in. We're available 24 hours for emergency roofing services too.
Shingle Roof Repair in Birmingham AL
As with any residential roof leak, finding the actual source of the water intrusions is the first step. Just because you see a water stain on your ceiling in one area doesn't necessarily mean that it's coming from directly above.
In Birmingham and the surrounding areas, it's best to leave this job to the roofing experts. Regardless of the type of shingles you have, it takes a professional to maintain them.
A quick inspection of the attic where you can see the underside of your roof may provide clues. We'll look for wet or dark-colored wood in the trusses or wet insulation. Oftentimes, a shingle roof may leak in one spot very slowly, then run down one of the beams and drip in another location.
Once we have quickly pinpointed the point of water entry, we'll go up on the roof to inspect the shingles in that area. In order to properly repair the roof, we will peel back the surface layers to inspect the wood decking for any signs of wood rot or water damage. If needed, the wood will be repaired or replaced as will the affected tar paper and roofing shingles.
Full Service Roofing Contractor
As our name states, we specialize in roof leak repair. That means that any area of your home's roof that becomes damaged as a result of the water leaking in. Our maintenance services can often include the repair and replacement of drywall (sheetrock), paint, trim, etc. When we're through with the job, we'll be sure to clean up the area too.
If you want a quality fiberglass or asphalt shingle roof repair at an affordable price, call us today for a free consultation.
Alabama Shingle Roof Repair
Birmingham – Hoover – Vestavia – Pelham – Trussville