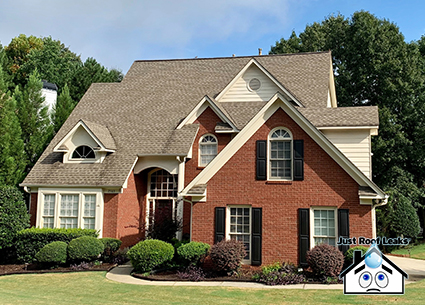 Roof leak repair in Birmingham can be done for less money if you hire a reputable roofing company. Just Roof Leaks℠ specializes in residential and apartment building roofing repairs. Our repair prices are affordable and we warranty every roof leak we fix.
Do you have a leaky roof and need it repaired right away? Call us now and never overpay for roofing repairs ever again!
(205) 413-4683
Roof leaks usually happen when you don't want them to, like the middle of the night. Heavy rain and wind can cause storm damage to your roof quickly. A leak on the ceiling is typically the first sign. We're licensed, insured and warranty all of our repairs. We're local to Birmingham Alabama and service all surrounding cities.
Roof Leak Repair Service in Birmingham, AL
Whether you need our roofing services right now or in the near future, we're here to help. We have expertise in almost every roof type including: Asphalt Shingle, Flat, Metal and Cedar Shake. We're known for our high quality, low cost roof leak repair.
Our services include:
Apartment Building Roof Leaks
Flat Roof Leaks
24 hours a day and 7 days a week, Just Roof Leaks℠ will come out to your property to fix your roof. If a wind, hail, or rainstorm has just passed through the area, we can be there pretty quickly. The last thing you want to do is make the wrong choice when hiring a roofing contractor. The best advice is to investigate their reputation. Is there anything bad about them being said on the internet? Do they have an A+ Rating with the Better Business Bureau? Only the best roofing companies will put their estimates in writing and provide proof of insurance and licensure.
Just Roof Leaks℠ is a Roofing Company in Birmingham, AL specializing in roof leak and roof damage repairs.
Alabama Roofing Repair Company
Birmingham – Hoover – Vestavia – Pelham – Trussville