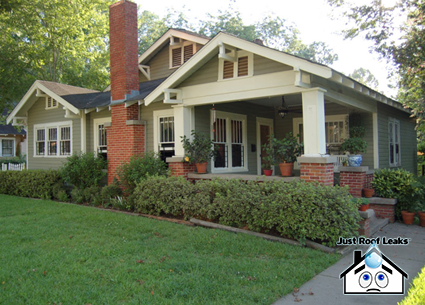 As a Birmingham roofing repair Company, Just Roof Leaks℠ has been helping residential roofing customers save money for over a decade. Our services are reliable, on time, and almost always affordable.
Hire Birmingham's Affordable and Professional roofers. We're Trusted and We fix roof leaks and roof damage at the best price!
Call us at (205) 413-4683!
For years we have been providing quality residential roof leak and roof damage repairs. Our roofers are licensed, certified, and expertly trained to fix, repair or replace any type of roof.
Home Roofing Repairs
We provide all types of roof leak repairs. There's no such thing as too small when it comes to a repair. Helping homeowners to get the longest life out of their roofs is our top priority. And it's not just the roof that we repair, we also fix leaking skylights, chimneys, and satellite dish mounts.
When you first detect a leak, call us out to repair it before it gets any worse. Some of the most obvious signs can be water stains on ceilings or walls. Common areas to inspect are the ceiling near the fireplace, skylights, and any area that has a ventilation pipe that goes up through the roof.
Procrastination is the enemy of saving money. Even small roofing leaks can end up damaging sheetrock, insulation, and other structural elements in your home. Always get roof leaks fixed as soon as possible. 24 hour emergency service is available if needed.
Types Of Residential Roofing We Repair
If your home has a roof on it, we can fix roof leaks quickly. Some of the more common roof types that we repair, replace, or install are:
Shingle Roofs. Architectural or 3-Tab shingles, we can match the type or style of your shingles is easy.
Metal Roofing – Standing seam, corrugated or R-Panel metal roofs can leak. When they leak, call us to fix it.
Cedar Shake – Wooden shakes are commonplace on historical and custom homes. Only trust a pro to make repairs or replacements
Flat Roof Types – Tar and Gravel or built-up roofs. We know how to fix your flat or low sloped roofing issues quickly.
Roof Vents & Pipes – One of the most common areas of a roof to leak are plumbing and attic vents that come up through your roof. Boots and flashing around pipe boots and ventilation systems are removed and replaced when necessary.
General Maintenance – we offer routine maintenance services at affordable prices to help make sure your existing roof lasts as long as possible.
Over the years, tons of homeowners have trusted Just Roof Leaks℠, our Birmingham AL roofing company. Reputation and great customer service will help you see why.
Alabama Residential Roofing Company
Birmingham – Hoover – Vestavia – Pelham – Trussville