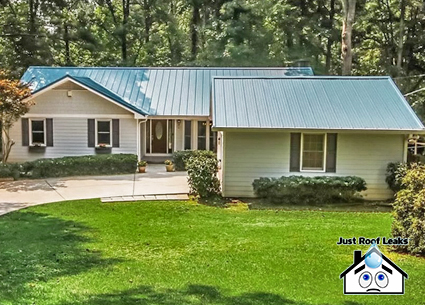 Do you have metal roof leaks that need fixing? Just Roof Leaks℠ is Birmingham's fastest and most affordable roof repair company. We're on call 24 hours a day to serve you when you need it fixed right now. We specialize in residential and apartment building metal roof leaks.
Do you have water coming through your metal roof? We're the roof leak experts who can find and fix it fast!
Call us at (205) 413-4683 Today!
Whether your roof has just started leaking or it has been severely damaged from a storm, we have the skills to repair it properly.
Metal Roofing Leak Repair in Birmingham
Although we mostly see metal roofing on log cabins and businesses, its use in residential applications is growing rapidly. We repair roof leaks on any type, shape or style that you may have, including:
Metal roof repair takes a trained and experienced roofing contractor to get the job done right. Whether you have loose panels, popped or missing screws or fasteners, or rusted and corroded metal, we can take care of it for less money than most.
Metal Roof Damage
As tough as steel roofing is, it can be damaged by falling objects. Because of the strong storms that we have in Alabama, hail, wind, and flying debris can create roof leaks quickly. Sometimes, it's hard to spot the damage.
If you notice a water stain on your ceiling or walls after heavy rain or storms, you should call us out for an inspection. We're the experts at finding metal roof leaks and fixing them properly afterward. Our emergency roofing services are available 24 hours.
If the damage is severe, replacing may be the best course of action. Our services include roof replacement insurance claims, so if needed, we've got you covered.
If you are looking for a Birmingham metal roofing company that cares about quality and low cost, call Just Roof Leaks℠ today.
Alabama Metal Roof Leaks
Birmingham – Hoover – Vestavia – Pelham – Trussville